enjoy luxurious comfort with hydronic heating in your prahran home
Hydronic heating offers a smarter way to heat your home, and can be further customised to meet your individual needs and requirements. For example, rather than a radiator panel in the bathroom, ensuite, or laundry, you might choose to make a heated towel rail or towel ladder a part of your hydronic system. This will serve the dual purpose of keeping the room warm, free of damp and mould, and serving as a practical way to dry wet towels or clothes.
SLAB HEATING
IN SCREED HEATING
MINITEC
HEAT DIFFUSION PLATES
ELECTRIC UNDER TILE
SLAB HEATING
Hydronic slab heating is the cheapest and most common method of under floor heating. Premium hydronic pipes are laid in carefully pre-planned patterns to suit your home, and zoned accordingly. Compared to the more expensive in screed option, the one downside to slab heating is that the heat is diffused through the entire slab. This means that some of the heat travels down away from your home, and more energy is required to warm your flooring to the desired temperature.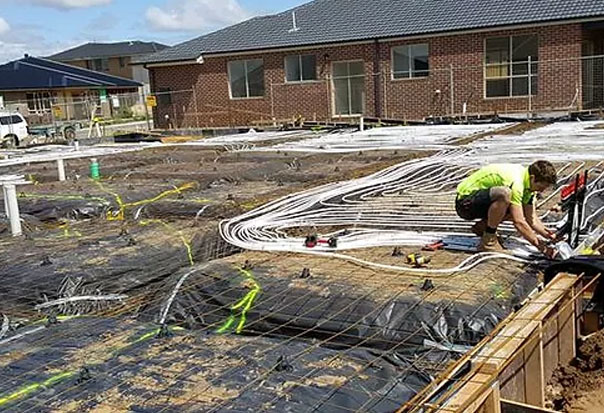 IN SCREED HEATING
In screed heating is a different method of slab heating. It is installed after half of the slab has been laid, and includes a layer of insulation between the bottom of the slab and the hydronic heating pipes. This method provides less heat loss to the slab compared to traditional slab heating, and is more efficient to run. However, in screed heating is more expensive to install than traditional slab heating.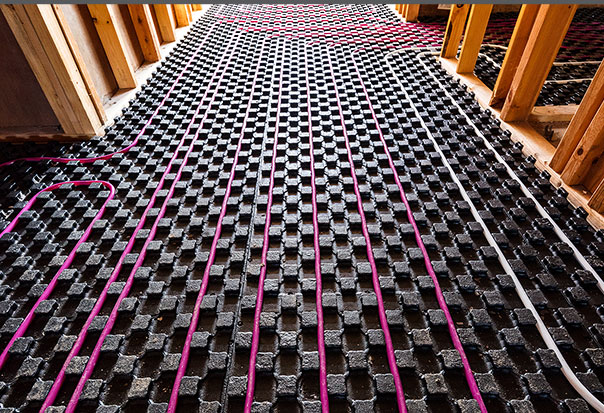 MINITEC
Minitec is another alternative to hydronic screed heating for the space conscious. It can be laid over new slab or existing flooring, and is covered with a thin screed. The Minitec system uses unique 9.9 x 1.1mm piping and increases the floor height of only 15mm.
Download Minitec PDF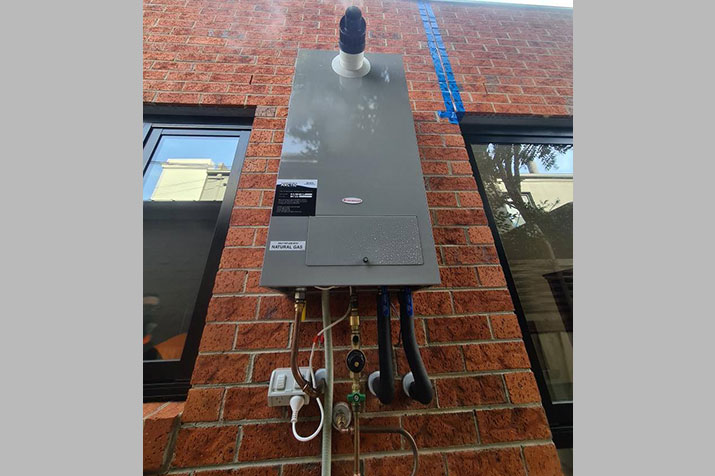 HEAT DIFFUSION PLATES
Heat diffusion plates are laid between floor joists, and provide a great option for underfloor heating when slabs are not an option. Hydronic heat plates can also be used to provide underfloor heating for two storey homes.
Hydronic pipes are laid in grooves built into the heat plates, and the plates are laid over the floor joists. Heat radiates from the hydronic pipes and is diffused via the heat plates to provide even heat distribution.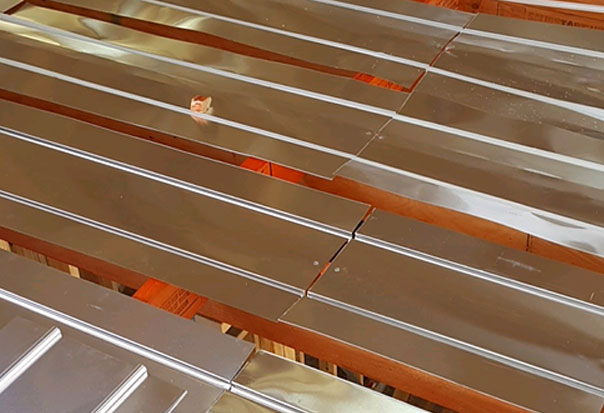 ELECTRIC UNDER TILE
If a hydronic system is not suitable for your home but you are still looking for the luxury of a warm floor, then electric under tile heating might be for you. This is also a great option for renovations as only the floor surface needs to be replaced to facilitate installation. The electric heating element is placed directly over the subfloor and your tiles are simply laid over the top.
Under tile heating is best suited for small areas such as bathrooms and ensuites.